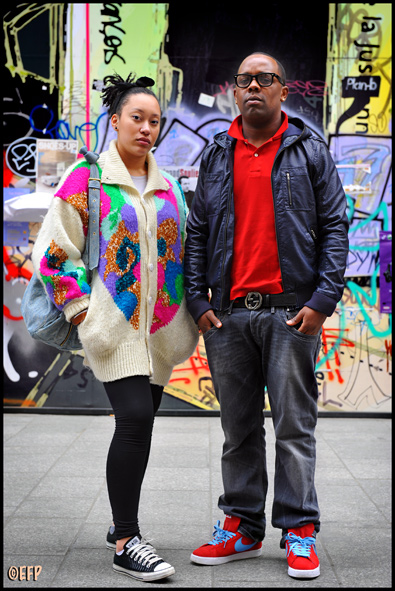 Audrey 18
I am a student
I wear a cardigan found in a Vintage Shop
Black Legging and low CONVERSE
My perume is "Cinema" by YSL
My look is fulle of colors
I love food. I hate hypocrisy
My message to the world is: make peace please !
Gary 25
Computer assistant in a satellit company
I wear a jacket from H&M. A polo-shirt by LACOSTE.
Jeans from PEPE JEANS. Belt by GUCCI.
Sneakers NIKE Blazer "Vanilla Ice" Collector.
Glasses RAYBAN Wayfarers
Perfume: "Infusion d'homme" by PRADA and HUGO BOSS
Fashion is Life. My look is classical & re-invented.
I love sneakers (I have about 150 pairs of NIKE).
I hate girls that're cheating me !
My message to the world: Wear sneakers and be different !