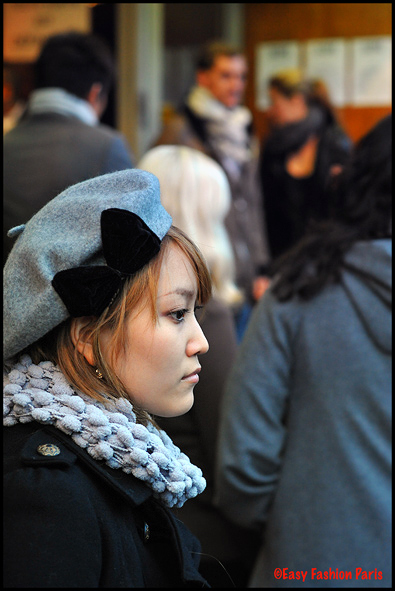 First Thanks !


First thanks for taking time to visit Easy Fashion in Paris !
But don't forget that your comments are the only tracks you let when you come in here. As visits are growing up, I don't see a lot of messages. When I read you, it makes me happy ! So please take time to let a little message (if possible: different of "Kilroy was here" or "Nice Outfit !" or "Cool look !" or whatever .... Because, you see, I take a lot of time to do what I am doing here ! You don't write in french or english ? Ok no problem, you can write in any langages you want ... But how did you understood what I wrote ... Uuuuhhhh ???
Cleaning up the Bloglist
I have started to clean up my blogroll.
I deleted some blogs:
Some of them are inactive for a long time. If you decide to reactive yours, let me know about that ...
Some of them asked me for a swapping of links and they never link Easy Fashion back. Ouuhhhhh ! Ok. If you change your mind you can send me a message.
Some of them have been linked for a long time, they cannot ignore it, and they have never link back Easy Fashion. If you change your point of view, let me know about that please ...
Some of them don't even give an answer to my messages or they think Easy Fashion is not worth to be linked to their blogs. Ok no problem with that. Maybe you think that a link to Easy Fashion would disappoint your own visitors ...
Thank you for your attention


Fred the Mole
Merci à tous !
Tout d'abord, merci de prendre le temps de visiter Easy Fashion in Paris !
Mais n'oubliez pas que vos commentaires sont les seules traces de vos visites ici. Il y a de plus en plus de visiteurs, mais je ne vois pas tellement les commentaires augmenter. Quand je lis vos commentaires, je suis très content. Alors merci de prendre le temps de laisser un petit message si possible différent de "joli look ou belle veste !".
Vous n'écrivez pas le français ou l'anglais ? Pas de problème, vous pouvez laisser un message dans n'importe quelle langue. Mais dans ce cas, comment avez-vous fait pour lire juqu'ici ? Uuuuuhhh ???


J'ai commencé à revoir mes liens et j'en ai effacé certains:
Certains blogs étaient inactifs depuis longtemps. Si vous décidez de reprendre vos posts, faites le moi savoir ...
D'autres blogs m'ont demandés un échange de liens, sans jamais donner suite ... Ouuuuhhh !!! Ok si vous changez d'avis ...
D'autres encore qui étaient depuis longtemps dans ma liste ont choisi d'ignorer Easy Fashion sans répondre à des messages.
Peut-être qu'ils pensent que Easy Fashion n'est pas assez bon pour eux. Ok pas de problème, si vous changez d'avis ...
Merci à vous
Fred the Mole